Carnival Dates for 2018:
Tues. 8/14 – Sat. 8/18!
Houghton Enterprises is new to our carnival this year!
Conveniently Houghton will be offering online purchasing of a limited number of "Five Day Ride Passes" good for every night of the carnival and with significant savings!  You can also purchase single evening passes online through 11:50PM on August 13th.

Mother of Divine Providence is happy to celebrate its Community Carnival with people of Good Will!  We open our doors to welcome our neighbors, our friends, those who have just moved here or have come to visit the Valley Forge area.
The Carnival is a way for us to collaborate with the Church in strengthening both family life and neighborhoods, by supporting family and community members and encouraging them all to work for the Common Good.
The Carnival is a way to re-establish our cultural ties as Catholics faithful to our beliefs, and in our citizenship in the greatest Nation on earth!
You are most welcome to join us!  For information click on this link to our carnival webpage:  www.mdpcarnival.com
SIGN UP GENIUS WILL BE UP AND RUNNING SOON…STOP BACK

to donate to the Carnival or Volunteer to Help at the Carnival
Click on the "Sign Up" button shown below.  It will take you to our sign up homepage which outlines all of the areas of need; donations and the need for helpers – before, during and after the carnival.   PLEASE HELP WHERE YOU CAN!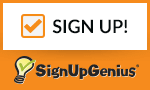 3 ON 3 BASKETBALL TOURNAMENT
Another feature of the carnival invites children in grades 5-8 to participate in a Round Robin Tournament that will be played on Tuesday and Wednesday of the carnival.
The teams may have up to 5 players on their roster and must compete in the first round to continue to the Championship Round.
Watch here for the official registration form.   We look forward to seeing you at the Tournament!
MIXED TEAM – VOLLEYBALL TOURNAMENT
New to the Community Carnival this year is the "Mixed Team – Volleyball Tournament"
Our Volleyball Tournament will be open to everyone, young and old.  Teams MUST pre-register for this event.
Complete information to follow.  Watch here for the "registration form".